Basic Dental Care in New Haven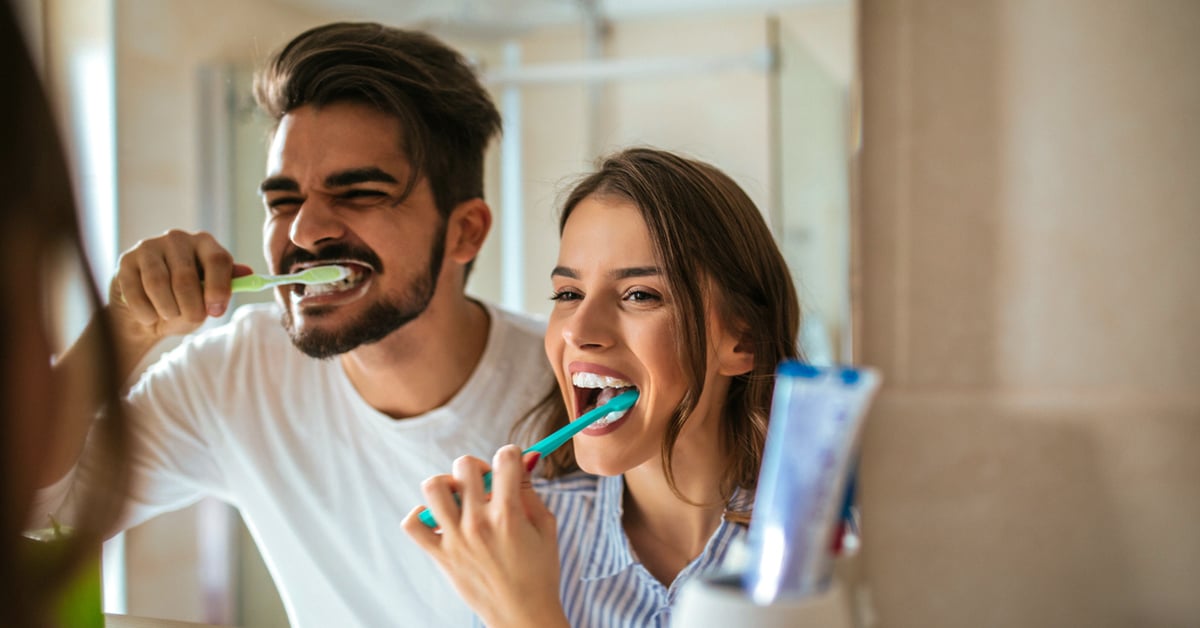 Everyone wants to look younger, but did you know that one of the easiest ways to look younger and healthier is with a beautiful smile? It's true. Not only will you look healthier, but you'll also be healthier because research has linked good dental health to good physical health, and poor dental health to poor physical health. Scary diseases such as cancer, dementia, and cardiovascular disease have been directly linked to poor oral health. So, for the best physical health and the most youthful appearance, be sure to have good dental hygiene.
If you need to schedule an exam and cleaning or any other dental procedure, click here for an appointment.
What Should Basic Dental Care Consist Of?
According to the American Dental Association, your basic dental hygiene regimen should consist of:
Brushing at least twice daily, and once should be just before bedtime
Use a toothpaste that contains fluoride
Floss at least once each day, especially just before bedtime
Have regular dental checkups and cleanings
Your dentist is your staunchest ally in the battle against cavities and decay, so don't be a stranger to your dentist. Annual checkups and cleanings are good, but twice each year is better. No matter the quality of your oral hygiene routine, your dentist can notice minor issues before they escalate.
Oral cancer is a good example. Usually, it presents asymptomatically, so you won't know you have it until it has spread, but your dentist can spot the evidence and help you eliminate it before it escalates. We recommend that all patients get screened for oral cancer during their annual exam and cleaning. The screening is non-invasive and painless, so don't be hesitant. Call our New Haven office to schedule an appointment.
Do You Brush at Least Twice Daily?
According to the ADA, brushing twice daily is the minimum requirement for maintaining good oral health. Optimally, you should brush and floss after each meal or snack. However, this isn't always feasible, so when it isn't, you can rinse your mouth well with clear water and use your dental routine when it's convenient. Don't make a habit of rinsing your mouth well in lieu of using your oral hygiene routine, however. Rinsing with water should be used as an interim measure only.
When you brush, make sure each quadrant of your mouth gets a minimum of 30 seconds of brushing. A quadrant of your mouth is:
The upper right side of your jaw
The lower right side of your jaw
The upper left side of your jaw
The lower left side of your jaw
The order in which you brush doesn't matter – upper or lower first, or right or left first – as long as brushing takes two full minutes. Otherwise, the food particles in your mouth can combine with the bacteria, and you'll start to develop decay and gum disease.
Use gentle pressure when you brush and a circular motion with back-and-forth strokes. Using firm pressure and quick strokes won't help. Rather, it will damage your tooth enamel, so don't try to rush the procedure. Either a manual or an electric toothbrush works equally well as long as you brush correctly and for the needed amount of time. Brushing your tongue will help rid your mouth of bacteria lurking on the tongue's rough surface. Although many people don't do this, many dentists recommend it. If you have questions about it, ask your New Haven dentist.
Replace your toothbrush every three months or immediately after you've recuperated from being sick. If the bristles on your toothbrush look frayed or start to splay, then replace it, and be sure it's properly sized for your mouth. Not all adults need larger toothbrushes, and not all children need smaller ones, so buy the appropriately-sized toothbrush rather than what's indicated on the package. Your toothbrush should have soft bristles that are of uneven length. This will maximize the benefit of your brushing routine since the longer bristles can reach between the teeth while the shorter bristles will clean the surfaces of your teeth.
Do You Use Fluoridated Toothpaste?
Most toothpaste now contains fluoride due to research conducted in the 1950's. As a test, some toothpaste brands contained fluoride, and the result was a lower incidence of tooth decay and cavities. Now, most toothpaste contains fluoride, as do most municipal water supplies. Although some people are concerned about getting too much fluoride, that's not usually an issue because of the small amount of fluoride in water. There are symptoms of over fluoridation, so if you're concerned, ask your New Haven dentist.
Do You Floss Daily?
Flossing after each meal or snack is an excellent addition to your daily oral hygiene routine. However, it's not always possible, so if you can only floss once each day, it should be just before bedtime. Don't eat anything after you floss. It doesn't matter whether you use floss picks, traditional floss, or a water flosser as long as you floss. It also doesn't matter whether you brush first, then floss, or floss first, then brush. The order is strictly a personal preference.
Want More Tips for Basic Dental Care?
Mouthwash is an excellent addition to your oral hygiene regimen, and it doesn't matter whether you prefer the non-alcoholic type or the regular type, and the flavor doesn't matter either. This is another strictly personal preference, but mouthwash can remove any residual bacteria that may lurk on your tongue or in your mouth.
Make sure that all your dental products carry the ADA Seal of Acceptance, so you know that you're getting a safe, quality product.
Do You Need On-the-Go Tips?
Maintaining good oral hygiene can be tricky if you spend most of your time traveling or away from home. A travel kit comprised of travel-sized versions of your favorite dental products may help you maintain good oral hygiene. However, if it's just not feasible, then rinse your mouth well with plain water and resume your hygiene habits when it's convenient.
Your diet can help also. Rather than snacking on empty calories like cookies or chips, consider vegetables, nuts, or fruit. Their crunchy texture will help clear your mouth of bacteria and food particles, and their nutritional value will benefit your physical health also.
Do You Practice Good Prevention Habits?
Good prevention habits start with regular visits to your New Haven dentist for cleanings and exams. Yearly visits should be the minimum; twice-yearly is better. Your dentist may be able to provide you with tips on improving your oral hygiene, even if yours is already good. They can also spot issues before they escalate, so consider your dentist a friend and visit them often.
Ready to schedule your appointment for a cleaning and exam? Click here.
We Can Help You
Our patients' good dental health is our only priority, so we know you'll be happy with your gleaming bright smile.
If you need an appointment for an exam or any other dental procedure, click here.