Causes of Bleeding Gums and Gum Disease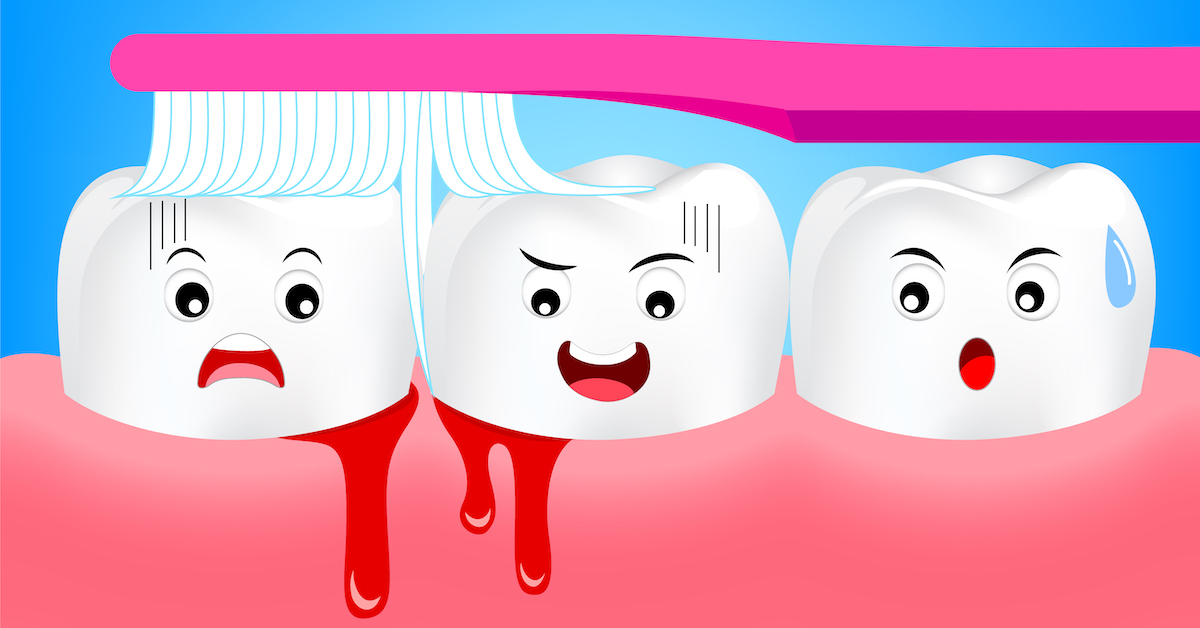 Identifying the Dangers of Gum Disease
It's just a little gum irritation, right? Wrong. If you have occasionally spotted a drop of blood on your toothbrush or on your dental floss after your regular dental hygiene regimen, you might think it's not that big of a deal. Just like cavities are bad for your teeth, overlooking the danger to your gums from gum disease would be a very harmful move. Gum disease can be silent when it first starts so it's important to educate yourself about the harmful effects of gum disease.
How Gum Disease Negatively Impacts Your Health
Gum disease usually begins as gingivitis, which has very few symptoms and can often go unnoticed for months or years. Also called periodontal disease, gum disease includes the conditions periodontitis and gingivitis. These conditions refer to the infection and inflammation of the gum tissue.
To start, gingivitis is caused by plaque buildup on your teeth and gums that occurs when bacteria break down sugary foods. Plaque is acidic and can damage tooth enamel, which can lead to tooth decay and cavities. This sticky film can also cause inflammation of the gums, which is one of the primary factors in the development of gingivitis and periodontal disease.
If left untreated, gingivitis usually develops directly into periodontal disease. This condition causes a breakdown of the tissues, ligaments and bone structures inside your gums and your jaw. It can destroy the attachment between your teeth and the jaw, causing the eventual loss of teeth and jawbone.
This disease is incredibly common in the U.S with an estimated 75 percent of adults and 60 percent of teenagers experiencing some form of the disease. The tricky part is that most people don't know they have the disease, in fact, only 15 percent of people know they have gum disease and can treat it. While a robust, proper dental care routine is ideal for treating gingivitis and preventing gum disease in the first place, regular trips to the dentist are also required.
How You Develop Gum Disease
While no one cause for gum disease will apply to every patient, some common factors could put you at higher risk of developing periodontal disease:
Patients with immune deficiency disorders are at higher risk of developing certain types of periodontitis. Necrotizing periodontitis poses a real threat to patients who have compromised immune systems. This condition causes the death of the tissues inside the gums and in the jaw. Both medical and dental treatment will usually be necessary to address this issue effectively.
Dry mouth syndrome can be caused by certain medications or may occur naturally in some patients. It is a risk factor for periodontal problems because it prevents the flushing of bacteria and plaque that would normally occur as saliva is produced and swallowed.
About 30 percent of all patients with periodontal disease have family members who have the same problem. This suggests a genetic predisposition to gum disease is likely in these patients. If you have a genetic predisposition to the disease, it's best to consult with your dentist about how to address this issue.
Smoking and poor dental hygiene are common factors that could put you at higher risk of periodontal disease. Smoking and the use of chewing tobacco can release toxic chemicals that can damage the tissues of the mouth.
Failing to brush and floss regularly and to schedule teeth cleaning appointments can allow plaque to build up on teeth, which significantly increases the risk of gum disease.
Hormonal changes in women can cause gums to become sensitive, increasing the likelihood that someone will develop gum disease.
Common Symptoms of Gum Disease
Although it can be difficult to pick up on the symptoms of gum disease, there are certain things to be wary of and discuss with your dentist. The warning signs of gingivitis and gum disease that you should watch out for when you brush or floss your teeth are as follows:
Redness of the gums or swelling around the gumline are both very common signs of gingivitis.
Bleeding from the gums, whether its light or a considerable amount, is another warning sign that requires further attention.
Changes in your bite or new gaps between teeth are usually a sign of gum disease.
Inflammation and pockets of swelling under the gumline can also be indicative of periodontal disease.
A feeling that your teeth are loose or unstable should also prompt a visit to your dentist to check for gum disease and other issues.
Get to Know the Facts of Periodontal Disease
Once you have gingivitis, if you don't get it treated, it will develop into what is called periodontitis. This means that the gums have pulled away from the teeth and created pockets where bacteria and plaque cause constant and painful irritation and inflammation. When you've reached this stage, your dentist will not be able to reverse the damage done to the teeth, gums or jawbone.
There are a couple of types of periodontitis that you can develop:
Aggressive periodontitis is a form of gum disease that affects people with few or no known risk factors. This type of periodontitis attacks the tissues, ligaments and structures of the mouth and gums much more aggressively than chronic forms of the disease. This can result in tooth loss and other negative effects on an accelerated schedule.
Chronic periodontitis which is slow going, but still results in the inflammation of the support structures and the loss of attachment.
Necrotizing periodontitis, as mentioned above, this occurs in people with depressed immune systems and leads to the death of the gum tissue, bone and periodontal ligaments.
Simple Steps for Preventing Gum Disease
Our dental team can provide you with guidance and support for your home dental care routine. We recommend brushing at least twice daily and preferably after every meal. Flossing at least once a day will remove plaque and trapped food from between teeth to reduce the risk of gum disease. You'll want to make sure you eat a diet low in starches and sugars as this can increase your risk for developing the disease.
Regular appointments with our team of dentists can also help in the prevention and treatment of periodontal disease.