Posted under:
Root Canal
Posted on: November 20, 2020
Invisalign: Frequently Asked Questions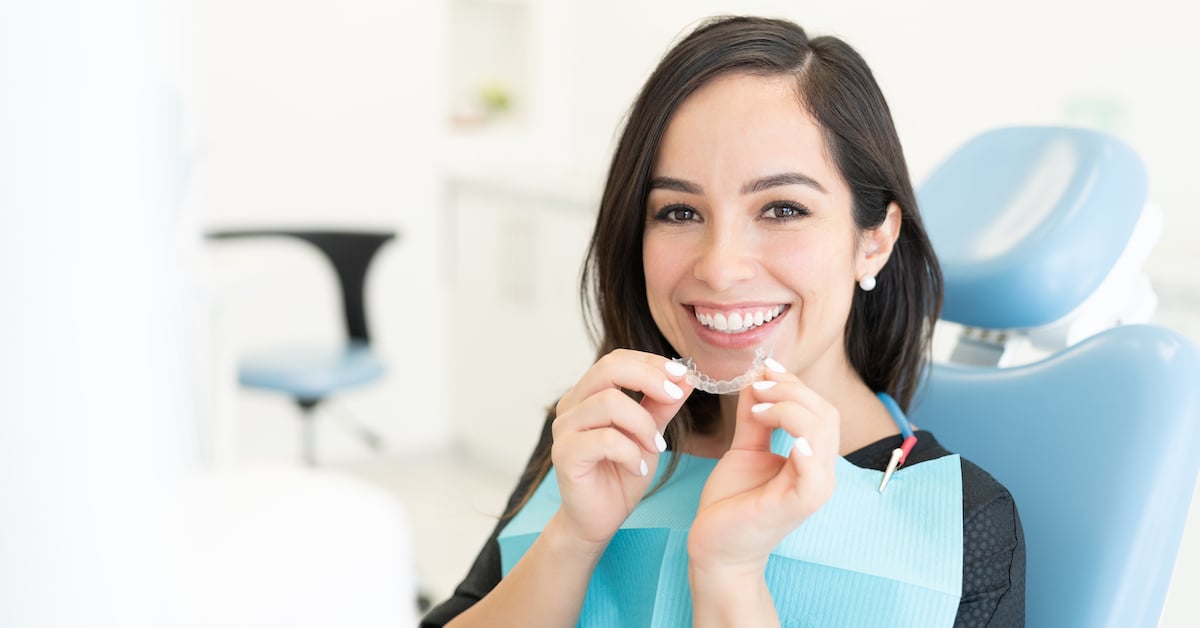 Do you wish you had gotten braces as a teenager so you had straight teeth today? Perhaps you didn't realize how misaligned teeth would make you feel self-conscious or how they could hurt your chances professionally. It's never too late to have orthodontic work done. Invisalign offers a discrete, practically invisible way to have straighter teeth or close gaps between your teeth.
What's Invisalign?
Invisalign is a teeth straightening technology that uses clear aligners to move teeth the same way as braces would, by applying a gradual force. Instead of metal or ceramic brackets and wires, patients wear a clear retainer-style tray that fits snugly over the teeth. Patients wear their Invisalign aligner trays for 22 hours a day. Unlike braces, which have brackets glued to the teeth, the aligner trays are removable for eating and teeth brushing and flossing.
Invisalign are the oldest, most popular brand of clear aligner trays. They use the company's patented StartTrack material for the ultimate in comfort and ease of use. Dentists, like ours, receive special training in their use so they can create customized, effective treatment plans for their patients. Please call today for a consultation and we can show you what Invisalign can do you you.
Who Can Wear Invisalign?
Invisalign is for teenagers and adults who want a discrete way to have orthodontic work done. The aligner trays can fix most issues, including overbites, underbites, gaps and crowded teeth. There are some complex issues that require metal braces, but Invisalign can correct most issues. Your dentist can tell you if Invisalign is the right treatment option for you after an exam.
If you're considering Invisalign for your teenager, ask yourself these questions.
Has my child's jaw stopped growing?
Your dentist is the most qualified person to talk to about this. If their jaw or teeth are still growing, they may not be a good candidate for Invisalign.
Will my teen comply with the treatment plan?
Your teenager must put the aligner tray back in after eating and brushing their teeth. Ask yourself if they will take a travel toothbrush with them to school, brush their teeth, rinse off the tray and then put the aligner tray back in after lunch. Many teens are responsible and will do this, but some would be better off with permanent braces.
Will your teen keep track of their aligner trays?
It's very easy to put the aligner on a lunch tray and accidently throw it away or leave it at a friend's house. Everyone loses things, but if your teen constantly loses their keys or other items, braces may be a better option.
Does your child play contact sports?
Invisalign does not double as a required mouth guard for contact sports. If your teen has practice and games that would require them to have their aligner tray out for too long each day, Invisalign may not be the best choice.
What Is the Process for Getting Invisalign?
First, you'll have your initial appointment to learn more about Invisalign and to see if you would be a suitable candidate. If you decide to get Invisalign, your dentist will make a mold of your teeth for the lab. This is often done digitally. You'll return to the dentist's office for your first set of trays and your dentist will go over how often to change them and when to return for more trays and to ensure your tooth movement is progressing as expected. If you're interested in getting started, please contact us for an initial appointment.
What Is Living with Invisalign Like?
Living with Invisalign is simple, but there are a few things you need to know if you want your to keep your teeth healthy and complete your treatment on time.
You have to wear the trays at least 20 to 22 hours a day. This limits your time for meals, snacks and oral hygiene. No more mindless snacking or drinking coffee all morning long. You can drink water without taking out your aligner tray, but that's about it.
You have to brush after every meal or snack. If you don't, saliva can't wash away the food particles and your teeth will decay. Get a travel toothbrush to carry with you for after meals you eat while out.
Clean your aligner as instructed by your dentist. If you don't keep it clean or you scratch it, it will be more noticeable.
You may lisp for a day or two after getting your first aligner tray. This is only temporary.
People often wonder if they can kiss with Invisalign. Yes, the tray won't dislodge, but your first kiss may feel slightly different.
These are minor inconveniences compared to what people go through wearing traditional braces with brackets and wires. Most patients feel the minor inconvenience of repeated teeth brushing is 100 percent worth it to have a straight smile and healthy teeth at the end of their treatment.
What Happens After Treatment?
As with all orthodontic treatment, you'll wear a retainer after treatment so your teeth don't revert to their former position. To make sure your straight, new smile stays that way for life, your dentist will set up a post-treatment plan. It will detail how many hours a day you wear the retainer and for how long. He or she will also help you choose a retainer based on your individual needs, as there are several types.
Where Can I Find an Invisalign Dentist?
Many dentists provide orthodontic treatment, but only certain dentists offer Invisalign as they must have special training from the company. Please contact us if you would like to learn more about the Invisalign brand of clear aligners. One of our experienced dentists will examine your teeth and decide if you would be a good candidate for the treatment. We would love to help you get the smile of your dreams because you deserve it.