Reasons and Remedies for Tooth Discoloration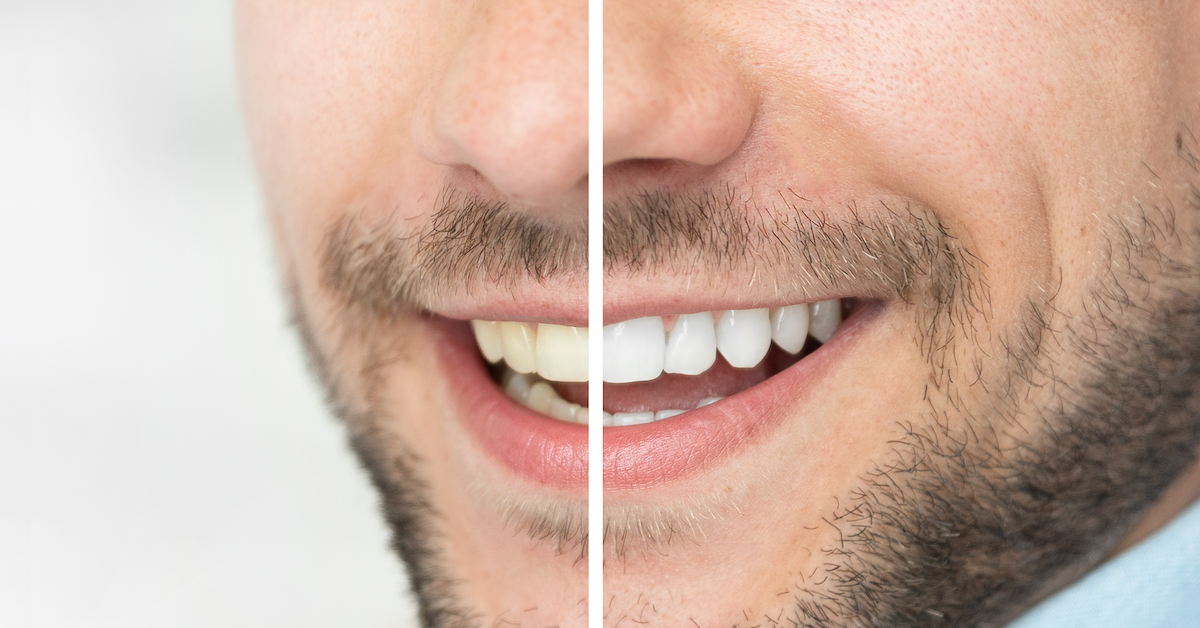 If you don't smile because your teeth are dark and discolored, then your self-confidence and self-esteem are probably affected. You don't have to suffer with discolored teeth, though. There are solutions, so read on to learn about the causes and remedies for stained and discolored teeth.
Why Do I Have Stained and Discolored Teeth?
Discolored and stained teeth can occur for many reasons, not all of which can be controlled. Your diet and lifestyle can play an essential role in the whiteness of your teeth, and you can control those factors. Your age, medications – both prescription and over-the-counter – will factor in, as will trauma to a permanent tooth and your genetics, and these can't be controlled.
Does My Lifestyle Cause My Tooth Discoloration?
Your diet and lifestyle play an important role in your oral health and your white smile. Many people don't realize that the foods they eat are an important part of their oral health. The following foods can darken and stain your teeth:
Dark-colored beverages: That morning cup of coffee or the evening glass of red wine can stain your teeth, as can tea, dark beer, and dark ale. The acids in them can also erode your tooth enamel.
Carbohydrates: As tasty as they are, white bread and baked goods, white potatoes, white rice, cereals, and pasta are loaded with sugars that can darken your teeth over time.
Snacks: Candy bars and gum are usually loaded with sugars that can attack your white enamel.
Sugary beverages: Fruit juices and drinks, energy drinks, sports drinks, and sodas are high in acids and simple sugars that can destroy your white tooth enamel and make your teeth look darker than they are.
If you eat or drink any of the above, then brush and floss your teeth immediately afterward so that you remove as much sugary residue as possible as well as any remaining acids.
Can My Lifestyle Help Reverse Some of My Tooth Discoloration?
Just as your lifestyle can cause stains and discoloration, it can also help you have whiter teeth. The following may help your teeth become whiter and healthier:
Water: One of the easiest and most readily available methods for having whiter teeth, plain water is as beneficial for your body as it is for your teeth. It helps maintain adequate hydration, which is essential for saliva production. Your saliva, along with the liquids you drink, helps to flush food particles from your mouth as well as the residual sugars and acids that erode your teeth.
Sugar-free drinks: If plain water just doesn't work for you, then sugar-free beverages may help rinse food particles, sugars, and acids from your mouth. Rinse with plain water afterward, though.
Cocoa: Although most people don't consider cocoa as a healthy drink, dark cocoa can help reduce inflammation in your body. It also helps protect you from dental caries and the erosion of your tooth enamel. The protection isn't available from milk chocolate, white chocolate, or any chocolate with a high sugar content. Rinse with plain water after consuming cocoa.
Dairy products: Although the trend is toward non-dairy products, regular dairy milk and cheese are excellent sources of calcium and protein, which are essential for strong teeth and tooth enamel.
Fish and flax seeds: Both fish and flax seeds contain omega-3 oils, which are powerful anti-inflammatories that can help prevent periodontal disease. Be sure to balance your omega-3 intake with the appropriate amount of omega-6 fatty acids for the best results.
Does Smoking Always Cause Tooth Discoloration?
Most dentists agree that the primary cause of tooth discoloration is smoking. It's also one of the leading causes of periodontal disease, which can cause all your teeth to fall out.
Are There Types of Tobacco That Don't Cause Tooth Discoloration?
Whether you smoke, vape, chew, dip, or use any other method, if you use tobacco, you'll have discolored teeth. It's that simple, according to dentists. For the whitest teeth and the healthiest mouth and body, don't smoke.
Can I Have White Teeth and Still Smoke?
If, despite the evidence about the hazards of tobacco use, you still decide to smoke, there are ways to have whiter teeth. They won't be as white as a non-smoker's teeth, but they can be enough of an improvement that you'll want to smile again. To whiten and brighten smoker's teeth, consider the following:
Always brush your teeth after you smoke. This will remove the residual tar and nicotine that will continue to darken your teeth. If you can't brush, at least rinse thoroughly with plain water or use an antibacterial mouthwash.
Get a professional cleaning at least twice yearly.
Get dental work when you need it. Delaying treatment can cause your teeth to darken.
Follow the American Dental Association guidelines of brushing and flossing at least twice daily, especially right before bedtime. Use an antibacterial mouthwash every day.
Eat a healthy diet that's also well-balanced.
Although these tips may not provide you with the movie-star white teeth you want, they'll help whiten your teeth and counteract some of the effects of smoking.
What Can I Do to Prevent Discolored Teeth?
Quitting smoking will have the most impact on the whiteness of your teeth. Aside from that, the following guidelines will help prevent discoloration of your white tooth enamel:
Brush and floss after each snack or meal.
Rinse your mouth with plain water after drinking dark-colored beverages.
Get dental work promptly when you need it. Don't procrastinate.
Follow the American Dental Association guidelines of brushing and flossing at least twice each day and use an antibacterial mouthwash.
Get professional dental cleaning at least once annually.
Although there are other factors such as age and medication that may prohibit you from having dazzlingly white teeth, these habits should help whiten your tooth enamel.
How Can I Keep My Teeth From Becoming Discolored?
For the best ways to whiten and brighten your teeth, consult your dentist. They'll have your dental history and may provide recommendations that are specific to you. The following tips are also very popular:
Use tooth-whitening toothpaste.
Use an at-home whitening kit. Be aware, though, that an at-home kit may provide uneven whitening because any dental work such as crowns or fillings may not whiten to the same color as your natural teeth.
Get a professional tooth-whitening treatment from your dentist. They may also provide at-home kits that use the same products they use in their offices.
Make sure to get at least an annual cleaning and checkup.
Ask your dentist about crowns or veneers for stubborn stains.
You don't need to stop smiling because you dislike the color of your teeth, so be proactive and start working on your whiter and brighter teeth.